"Came here for dinner and had a fantastic experience"
"The food was excellent and so was the service. I had the mushroom risotto with scallops which was awesome. My wife had a burger over greens (gluten-free) which was also very good. They were very conscientious about gluten allergies. The restaurant has a vey nice ambiance and a cozy bar." – HawaiiNut02760
"The bartender, Erin, couldn't have been nicer"
"Walked in for dinner in a Wednesday night and sat at the bar. The bartender, Erin, couldn't have been nicer. She was quick, efficient and friendly. She helped recommend something for my dinner and the Lobster Florentine didn't disappoint! I even returned the next morning for breakfast and got similar service! It was a gem I found and can't wait to return next year- I just hope Erin is still bartending then!" – Scenic45010363797
"Great place to have breakfast!"
"We enjoyed the Eggs Benedict served on homemade focaccia bread and hot coffee. Perfect service." – Win133
"Oh, and the potato pancakes!"
"Coffee was fresh, the corned beef hash is amazing and homemade, even the toast was good! Oh, and the potato pancakes! Everything we ordered was fresh and delicious. Highly recommend! Definitely coming back." – Stacy F
"The Fairway is another must go for us when we go to the Cape"
"If we (I) are (am) lucky, we go for dinner one day and breakfast another. The dinner menu is varied enough for a family like mine that has only one seafood eater. The pasta and pizza are delicious! The breakfast menu is equally varied. I could have ordered at least 6 items on the menu. The service is great, prices are reasonable. The dining room and restrooms are clean and well maintained. Two thumbs up and 5 stars!" – Bryan C
"Wonderful place with wonderful pizza!"
"Friendly staff and probably the best cheese pizza I've had!" – Jesse T
"This place is fantastic!"
"Normally wings are wings, but theirs are lean meaty and tender, and delicious homemade teriaki glaze. Gluten free pizza way better than most. Great wait staff too.
Came here after finding the best gluten free muffins anywhere." – Paul B
"Great selection! My go to favorite is the Cape Cod Ruben. We also love their pizza. I just had the mushroom risotto with scallops and loved it!" – Deborah C
"This place is the best!"
"Great pizza and brunch as well. We had a big party for my birthday brunch and our waitress Maddie was so nice and awesome even with our big loud table of 11 people. I had the garden Benedict which was great, as well as the pancakes. Other favs included the special Santa Fe scramble and the breakfast sandwiches. Def recommend their cheese pizza too, really good sauce and crust." – Peyton H
"Great pizza, mozzarella sticks, calamari, chicken tenders, I could go on. Everything we've tried here has been amazing. The staff is always so friendly and accommodating." – Taylor M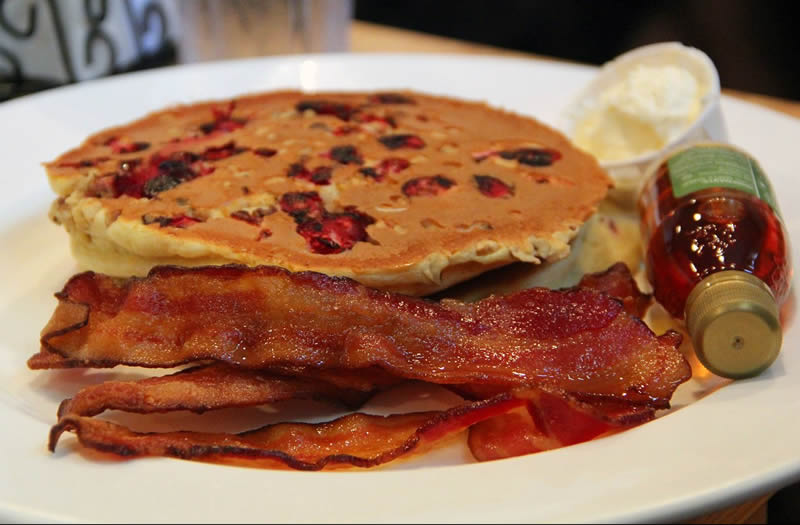 Submit a Review
If you have had the opportunity to enjoy a meal at the Fairway Restaurant we would love to hear about your experience.
Cheddar Scallion Belgian Waffle
Photo Credit:
liamsaunt
Jamaica-me-crazy Pizza: a BBQ based pie with jerk spiced chicken, onions, peppers, scallions and our cheese blend.
"Breakfast will knock your slippers off."
I had breakfast there this morning and dinner tonight. All were well beyond my expectations. Everything is so fresh. Best clam chowder I have ever had. Clams and linguine were out of this world. Breakfast will knock your slippers off.
The food is excellent, generous portions and great prices. The service was fast and friendly. I highly recommended it if you're in the Wellfleet area.
The most amazing food ever! And also the staff is so nice to everyone. I highly recommend buying food from here. The best pizza ever.
"The Food is Always Delicious!"
We like to go to The Fairway every time we come to the Cape. The food is always delicious! This is the first year we could make reservations (probably due to spacing because of the virus). Our waitress, Casey, was great!
"Fairway Has Great Pizza, The Best!"
Fairway has great pizza, the best! I am picky about my pizza. Their pies are huge, not two much sauce and a great mixture of cheeses.
My husband and I had our Anniversary dinner at the Fairway last night. We sat outside on the terrace which was very pretty and private. Our waitress was wonderful and the food was absolutely delicious!! It could not have been more spectacular! We would highly recommend it to everyone!!
This place knows how to satisfy their clients. Always with a super nice mindset. The food is affordably priced, always delicious and clean.
Been coming here for 20+ years. Never disappointed. Good service combined with good food.
We always get pizza here at least once during our summer visit. Breakfasts are hardy. All menu options are tasty- truffle fries- the best!!!
"One Of The Best Breakfasts Anywhere"
They are great for any meal, but I had breakfast there this time. Such a selection including creamed chipped beef, biscuits and gravy, potato pancakes, waffles, pancakes, egg scrambles, eggs benedict, and so much more. It has charming Cape style decor with a series of small rooms and little nooks and crannies, a bar area, and outdoor seating with shade.
Had dinner here recently. My husband ordered the Italian calzone. It came out as a 10" size dinner portion. He claimed it was delicious. The service was excellent.
Pizza was delicious..will be back soon.
We have been to Fairway many times for both breakfast and dinner. It's a family-owned restaurant, with friendly service and homestyle cooking, Their pizzas are quite popular at dinner, but In my opinion, they really excel at breakfast. Eggs are always perfectly cooked, the menu has lots of variety, and the specials are interesting. There is a good mix of sweet and savory options and even some healthy choices like scrambled egg whites and a quinoa-black bean-avocado-egg bowl. Portions are very generous. It's popular so be prepared to wait if you come later than 8:30 AM.
Best place for an early morning breakfast.
Best clam chowder I ever had. Southwest Salad was great. Homemade dinner rolls. The staff was so friendly! Will definitely visit again!
Huge portions. Amazing food. Superb service.
"We Love this Restaurant"
ABSOLUTELY THE VERY BEST RESTAURANT FOR BREAKFAST, LUNCH & DINNER!!!! WE LOVE THIS RESTAURANT!
We ate several times at the Fairway because the food was so good. We had breakfast at their sister location the Hole in One (which is attached to the Fairway) every morning. The pastries were delicious and fresh. When we dined for dinner, the food was also fresh and delicious.
We have had breakfast here many times in recent years and they continue to knock it out of the park. Today we sat out on the shaded patio and felt like we were having a private dining experience. Julia our server was friendly and attentive. The homemade hash was delicious as was the quinoa egg bowl, stuffed French toast, pancakes, and egg sandwich. Everything was fresh and delicious!
"Nice Menu and Very Tasty"
Group of six of us for a late dinner. Plenty of menu options and service was very good. Food was delicious and we were happy to have leftovers to take home.
Featuring: Specials, News, Events and More!
The Fairway Restaurant 4295 State Highway North Eastham, MA 02642 508.255.3893
©The Hole In One Group | All Rights Reserved